Welcome to the Steinschneider Home Page
(A website dedicated to unraveling the mysteries of our genealogy.)

Family News in 2010:

12/20/2010 We have created a hypothetical outline report of various Steinschneider lines that appear to fit together. There are five Steinschneiders that could plausibly be the sons or nephews of a Wolf Steinschneider (b. abt. 1700) from Prostejov. If these individuals are indeed related in this way, that would help join several currently disparate lineages. Based on current research, the relationships are highly likely; if not exactly as shown in the report, nonetheless very similar in truth once confirmed via official documentation.

12/20/2010 The following photos were provided by Danielle Feigenbaum. These are images of a spouse of a direct descendent, and direct descendants, of Moritz Steinschneider (1816 - 1907):


From left: Leopoldine Fischlowitz, Stefan (Abbi) Kaetzler (1938), Karl Steinschneider (in Israel), and Karl Steinschneider (1920).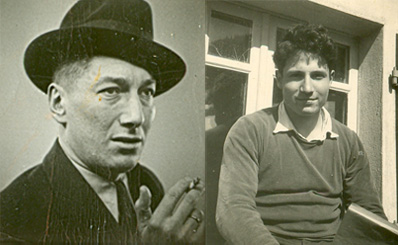 From left: Hans Steinschneider, Stefan (Abbi) Kaetzler (1946)
11/20/2010 Over the years we have received emails from Dr. Paul Matsenbaugh, who is a descendant of Morris Steinschneider, who emigrated to England as a teen in 1919 and fought in the Boer War and World War I for the British Army. Morris's papers indicate that he was from Russia, but he always told his children that he was from Poland. Based on the information we have received, a new outline report has been created here. Additionally, Dr. Matsenbaugh provided us with these photos: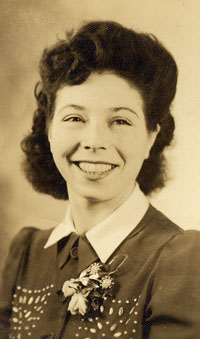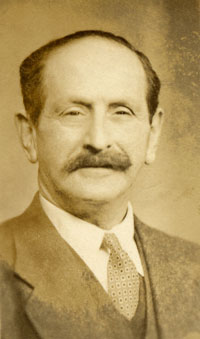 From left: Lillian Sarah Matsenbaugh (nee Stiny) in 1944 and her
father Morris King Steinschneider in the1940s.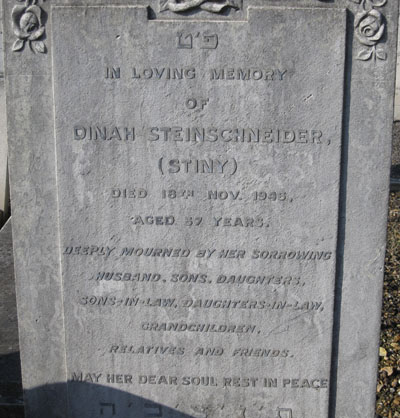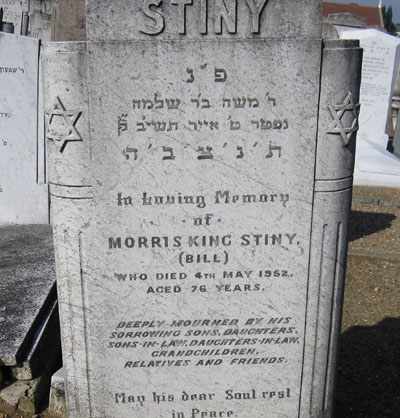 The tombstones of Dinah Steinschneider (nee Wakeman) Morris King Steinschneider
10/7/2010 Danielle Feigenbaum has provided some extraordinary photographs of Moritz Steinschneider. Although we have seen these published elsewhere, this is the first time scans of what appear to be the originals have ever been made available.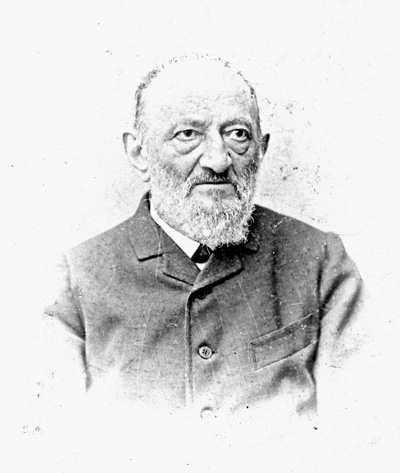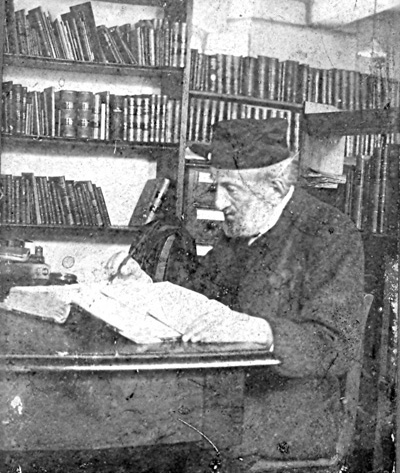 Moritz Steinschneider
10/3/2010 We've now merged what were two lines into one under the report for the Steinschneider descendants of Grabowiec and Ostrowiec thanks to additional information provided by Jan Millner Hecht Zimet over the weekend.
10/1/2010 Thanks to the ongoing contributions of Jan Millner Hecht Zimet, who has kept in contact with me for over 10 years (thank you for your incredible patience, Jan), I have finally been able to reconstruct some basic Steinschneider lines from the towns of Ostrowiec and Grabowiec Poland. With time, these lines will certainly grow and merge. They can be found in the newest outline report.
9/6/2010 In January of 2007 we received some very interesting information from Steinschneider descendants in France and England. Here is the death announcement of Dr. Heinrich Steinschneider (1828-1902). The photo and death certificate can be found on a page dedicated to data pertaining to Heinrich.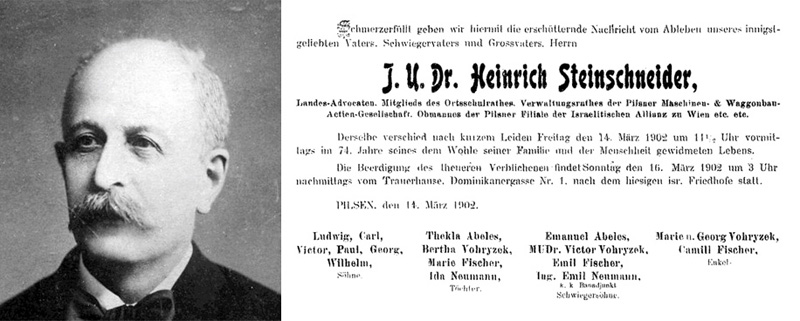 A photo of Dr. Heinrich Steinschneider alongside his death announcement.
9/4/2010 Here are some photos recently provided by Danielle Feigenbaum: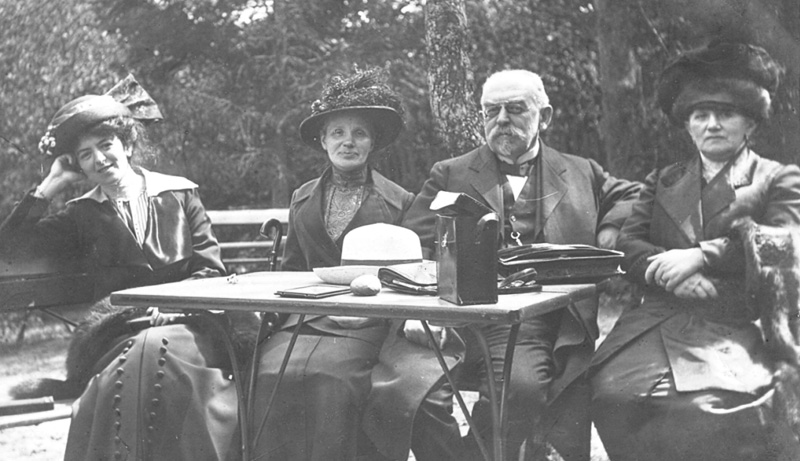 From Right: Anna Meth (born Steinschneider), probably her husband Mr. Meth (first name unknown), and two other unidentified ladies.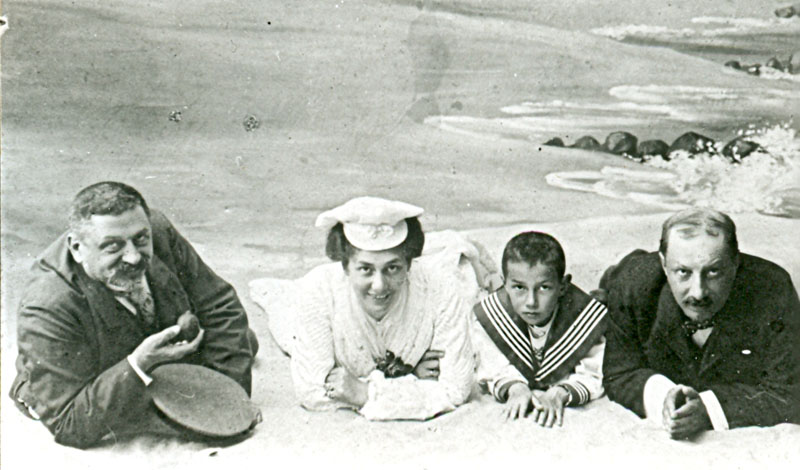 From left: Max Steinschneider, Lotte Rosenthal, Fritz Steinschneider, and Jacques Steinschneider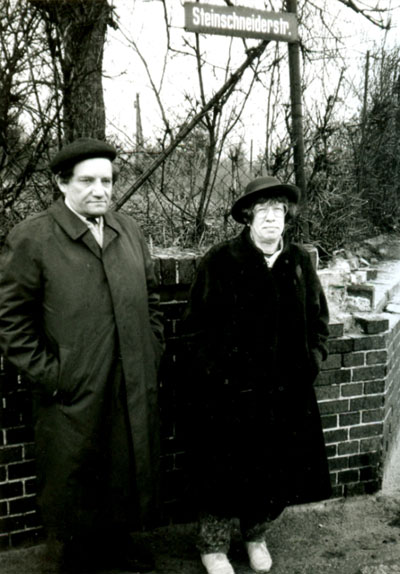 From Left: Stefan Kaetzler and Marie-Louise Steinschneider on
Steinschneider Street in Dallgow-Döberitz (a municipality in the
Havelland district, in Brandenburg, Germany).
9/3/2010 Thanks to information provided by Charlie Stone, the Isaias Steinschneider outline report has been updated. We've also added Dr. Ted Feder as member to the list of M.D.s, Ph.D.s, and D.D.S.s in the family on the Steinschneider facts page.
Additional photos submitted by Danielle Feigenbaum will be added shortly.
5/17/2010 It is with the deepest sadness and I regret that I announce the death of Maria-Louise (Musch) Steinschneider. She will be greatly missed.