Moritz Steinschneider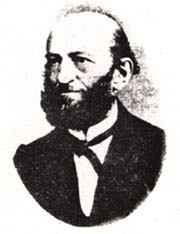 STEINSCHNEIDER, MORITZ (1816-1907), father of modern Jewish bibliography, one of' the founders of modern Jewish scholarship. Born in Prossnitz, Moravia, Steinschneider received his early education in his native town and was influenced by his uncle Gideon Brecher. He attended a Christian school and studied music as well, maintaining his interest in music throughout his life. At the age of 13 he entered the yeshivah of R. Nehemiah Trebitsch. In 1833 he left for Prague to take up secular studies. At that time Steinschneider had already acquired a thorough knowledge of French and Italian from private tutors. He became a tutor in these languages, and in 1836 received a teacher's diploma for Hebrew in the Hebraeische Lehranstalt in Prague. In the same year he left for Vienna to take up studies in Semitic languages. In Vienna he made the acquaintance of Leopold Dukes, who aroused Steinschneider's interest in the study of medieval literature, Hebrew manuscripts, and Jewish bibliography.

In 1839 he went to Leipzig where he stayed for half a year. This short stay was most important for his development as he studied there with H. L. Fleischer and Franz Delitzsch and formed close relationships with both. Steinschneider went on to the university in Berlin. He also made the acquaintance of Leopold Zunz and Abraham Geiger. Zunz encouraged the young scholar and helped him in many ways. Returning to Prague in 1841, he earned a living for three years as private tutor and teacher in a Jewish girls' school. In 1843 he received a formal rabbinical diploma from the rabbi of his native town, Hirsch B. Fassel, and also, a very warm recommendation from S. L. Rapoport. While in Prague, Steinschneider unsuccessfully applied for a number of positions, even for that of censor of' Jewish books. When his friend, Michael Sachs, decided to accept an invitation to Berlin and left Prague, Steinschneider followed him there (1845). Later, the friendship with Sachs cooled, because of Sachs' orthodox tendencies which did not meet his approval. In Germany he gave private les­sons, preached sermons, officiated at weddings, and engaged in occasional work as a translator and author of textbooks for the elementary study of Hebrew.

His first regular appointment came in 1859 as lecturer at the Veitel-Heine-Ephraimsche Lehranstalt, where he taught for 48 years. Among his students there were many young men who later became prominent Jewish scholars. e.g., I. Goldziher, Solomon Schechter, Hayyim Brody, Judah L. Magnes, H. Malter, A. Marx, George A. Kohut, and others. From 1860 to 1869 he was in charge of administering the Jewish oath, the Oath more judaico. Another regular appointment came in 1869, when Steinschneider was named assistant in the Royal Library of Berlin, a position he held until his death. In the same year he also became the head of the girls' school of the Jewish community. He retired from this position in 1890. In appreciation of his scholarly contributions he was made an honorary professor by the Prussian government in 1894. He was also a recipient of several other honors from various universities and academies, including one from Columbia University in New York (1887). On the occasion of his 80th birthday a Festschrilt was published in his honor.

Steinschneider's literary output was tremendous, his bibliography containing more than 1,400 items. His main lifelong interest was the study of the relationship between Jewish and general culture, especially during the medieval times. Realizing early that the preliminary requirement to carry out such a study was the thorough and scientific bibliographical recording of all the available printed and manuscript materials, Steinschneider devoted himself to the preparation of many library catalogs and subject bibliographies. In addition to his catalogs and bibliographies, he also provided general introductions to Jewish literary history and to Jewish booklore, In collecting and organizing the materials for his studies on the role of the Jews in medieval culture, his researches led him also to the study of' the history of' medieval philosophy, and especially that of' medieval medicine, the sciences, and mathematics. His works are not only a contribution to Jewish learning but also to Arabic literature and to general medieval cultural history.

© Copyright The Jewish Encyclopedia. Reprinted without permission.