The Blade Runner Fonts Page
I have been a big Blade Runner fan since the release of the movie in 1982. My fascination with the story, the movie's symbolism, and the film's cinematic beauty continually grows. Even though newer film productions include ever more incredible special effects, Blade Runner still does not cease to amaze due to the incredible visions of Ridley Scott, Syd Mead, and all those involved in the production of this marvelous work.
After rediscovering Blade Runner in 1998, I desperately searched the web trying to find a fan-produced Blade Runner TrueType font. Unfortunately there was not one to be found. At least, there was no free font available that was identical to the movie font. That is why I decided to create a freeware version of the original Blade Runner movie font.
In addition, I have also created the Spinner font in response to the overwhelming support I received in response to the Blade Runner Movie font. More projects are in the works and will be posted here when available.
Yours in Blade Runner,
Phil Steinschneider
Keep an eye out for occasional revisions. And feel free to e-mail any suggestions, comments, or praise to phil@steinschneider.com.
If you like these fonts, feel free to donate something by clicking on the PayPal button below:

To get the Spinner font click here or on the font below.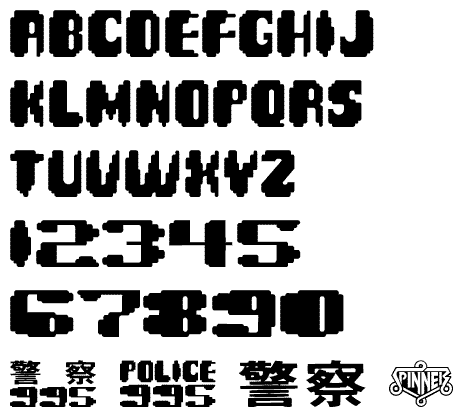 After many late nights and countless revisions, I finally released a final version to the Blade Runner newsgroup and a few Blade Runner dedicated websites. Below you will find links to the original Blade Runner Movie Font and a revised version called Blade Runner Movie Font 2. The second release includes the following:
1. The full Blade Runner logo with the Deckard silhouette.
2. The Deckard silhouette by itself as a glyph.
The Blade Runner Movie Font v3.01 (which now includes some international characters) can be acquired by going here.
For the Blade Runner Movie Font click here or on the font below.


For the Blade Runner Movie Font 2 click here or on the font below.

Send any comments, suggestions, or reference material to phil@steinschneider.com.