Welcome to the Steinschneider Home Page
(A website dedicated to unraveling the mysteries of our genealogy.)

Family News in 2014:

9/18/2014 Cousin Assaf Steinschneider has pointed out that Arthur Schnabel's son, Karl Ulrich Schnabel was a renown pianist like his father. And that Stefan Schnabel, Arthur's other son, was a renown actor. This information has been added in the form of links within the outline report in which all of these men appear.

4/24/2014 In May of 2013, after several months of back-and-forth correspondence during which various data about Herbert and Otto Steinschneider's wartime experiences were provided, historian Michel Jolland gave a presentation at Chevrières (Isère) describing the extraordinary stories of the twins before, during, and after World War II. Christiane Séguy was able to attend the event, while Philippe (Phil) Steinschneider sent his best wishes. The Adobe Acrobat version of the presentation can be found here.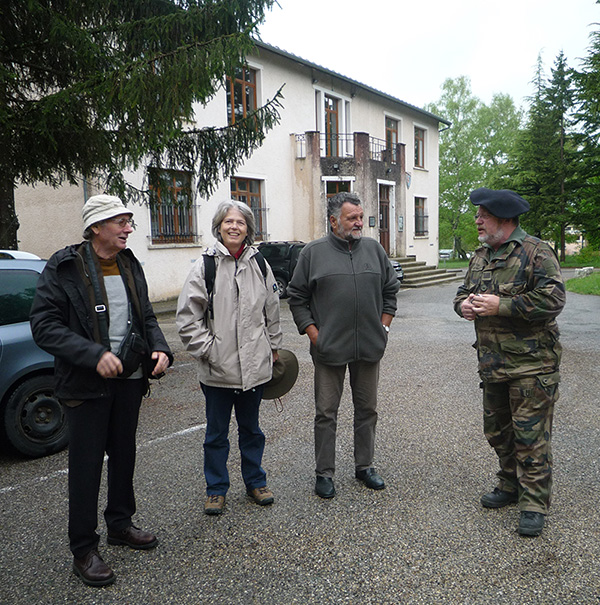 From left: Michel Jolland, Christiane Séguy, Jean-Michel Rousset, and Captain Hans at the
camp of Chambaran
4/23/2014 Michel Jolland, an historian from the department of Isère in France, recently shared his paper on Willi Münzenberg, the communist political activist. Münzenberg's path briefly crossed that of Herbert and Otto Steinschneider while the twins were interred at the military camp of Chambaran. The Adobe Acrobat document can be read here.
4/5/2014 Based on information provided to use from Assaf Steinschneider, the death years of Leopoldine FISCHLOWITZ and her husband Max STEINSCHNEIDER have been updated in the descendants of Rabbi Gabriel Steinschneider outline report.