Welcome to the Steinschneider Home Page
(A website dedicated to unraveling the mysteries of our genealogy.)

Family News in 2002: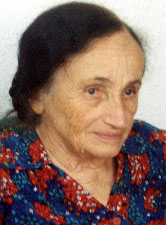 Dina Mandelbaum
10/14/2002 Steinschneider.com would like to wish Dina Mandelbaum a very Happy Birthday. Click here to read about this incredible woman.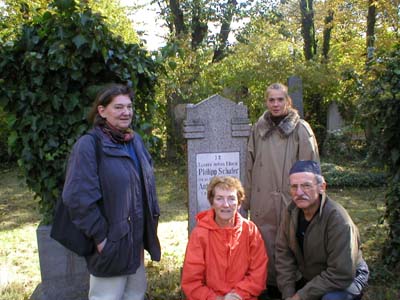 The Schafer family reunites in the Central Cemetery of
Vienna in front of their parent's grave.
10/8/2002 The Schafer family reunites in Vienna with cousins Helga and Peter Köpplinger. To see photos of this historic event, click here.
03/13/2002 In honor of the one year anniversary of our first trip to Vienna, we have finally captioned all of the pictures of the Vienna leg of our journey. To share in last year's travels, click here.
The time we spent in my father's birthplace was wonderful--thanks, of course, to our dear cousins, Helga and Peter Köpplinger. We miss you, Vienna, and the Kaesekrainers.
02/19/2002 Thanks to Ann Lang, we now have a photograph of the Steinschneider/Husserl family. To view this historical gem, click here.
02/10/2002 We have been contacted by the relatives of Paul-Emile Victor, the famous French polar explorer discussed in the family news posting of 1/19/2002. More information, including a brand new family outline, will be coming in March.
We finally updated some of the information Tatjana Steinschneider had given us on one of the Russian Steinschneider lines.
The descendants of Edmund Husserl have just sent us an incredible family photograph. This historical image will be posted to this site shortly.
01/27/2002 The descendants of Luigi Steinschneider have contacted us. Until now, we only had very thin and anecdotal information about this potential family member. Our first reference appeared at the following link:
http://www.tourismuninet.org/muuttuvamatkailu/art2.html
Thanks to Paule (Luigi Steinschneider's granddaughter) and Tony, we have discovered that Luigi was one of the most renown hoteliers of his era. He was the hotel manager of The Lido in Venice, The Continental in Cairo, as well as other hotels we have yet to be told of. In addition, he helped build The Ermitage and Continental Hotels in Nice at the turn of the twentieth century.
In addition, Luigi was decorated by Vittorio Emanuele, the King of Italy, on the 21st of September, 1913. He was also bestowed British citizenship for his work in establishing a hotel in Khartoum, Sudan.
Luigi Steinschneider left Vienna at the age of 15 and died in Nice, France at the age of 86.
01/19/2002 We have just made another extraordinary Steinschneider discovery: The famous French polar explorer, Paul-Emile Victor, was a Steinschneider. Unfortunately, the only reference to the Victor/Steinschneider connection that we could find is in an article written in French posted at the Sorbonne website:

http://www.enc.sorbonne.fr/th%E8ses/fournier/1partie.htm
For those who do not read French, here is a translation of the first paragraph:

"Born on the 28th of June 1907 in Geneva, Paul-Emile Victor could have called himself Paul Eugene Steinschneider; it was only on the 10th of June that his father, Erich Heinrich Victor Steinschneider obtained, from the imperial and general lieutenancy of the Kingdom of Bohemia, where he was born, permission to change his name to Eric Victor. Far from being the typical well-established bourgeois family that their son often described, the parents of Paul-Emile Victor were immigrants of Jewish origin from central Europe. They were one of those industrial bourgeois families that relocated for professional reasons. It was at Saint-Claude that Paul-Emile Victor grew up, in the privileged class. The First World War was a traumatizing experience for him. In 1915, his father, due to his Austrian nationality, was accused of espionage by rival industrialists trying to capitalize on anti-German sentiment, and arrested. Although cleared in 1916, a violent press campaign, that transformed the "Victor affair" into a sort of "Dreyfus affair", and numerous threats weighing on the family, forced them to move to Lons-le-Saunier, where Eric Victor opened a factory in 1919."
01/08/2002 Thanks to Dr. Alfred Steinschneider, updated information on the descendants of Samuel Steinschneider has been posted here.